The Sand Dunes
North End - Park And View The Sunset

There is an extensive beach and sand dunes north of Ecola creek. These provide many opportunities to get away from the crowds, and find a quiet place all to yourself. You can usually find a sand-filled hollow that provides shelter from the wind, and plenty of warm sunshine.
A good place to park is at Les Shirley Park on East 5th Street. The parking lot shown in this photo is located at 5th and Hemlock. However, this lot is frequently full in the summer. A second, larger parking lot, located a block further west at 5th and Larch, typically has plenty of room.
You can access the beach from the southern end of either Hemlock or Larch Streets. You'll be on the north side of Ecola Creek. This was one of my favorite spots to take my kids (every afternoon in the summer) when they were small. This side of the creek is free from the seaweed found along the south edge of the creek. With the dunes on one side and the creek on the other, it was a wonderful place for the kids to play.
There are two ways to get to the north end beaches:
One is to go onto the beach at the end of either Hemlock or Larch streets, then walk to the west. When you get past the dunes turn right, walk north, and find a comfortable spot.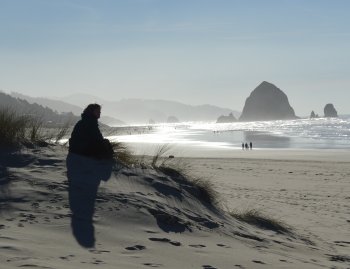 The other is to walk west on 5th street. You'll go up a small hill. At the end of 5th street is a wooden walkway that brings you across the dunes to the beach. From there you can find a good spot.
Please be careful when walking on the dunes. Do not walk on the grass. Only follow established pathways. Pick up all your trash and carry it out with you. The dunes and dune grass make up a tender environment that should be treated gently.