Cannon Beach Getaways
Ecola Creek Forest Reserve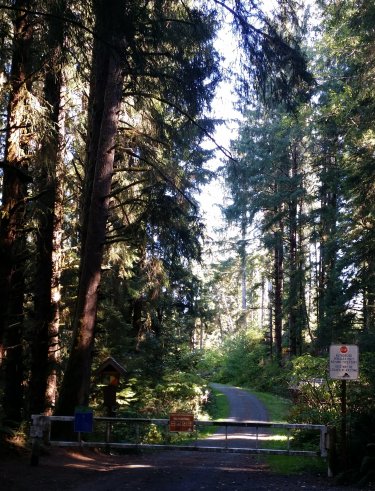 Most Cannon Beach residents don't even know about this one. You can expect a quiet hike on shaded gravel roads or hiking trails.
The Ecola Creek Forest Reserve is located on the east side of the city. It is a 1040 acre mostly forested area that is open to hiking and fishing. The photo to the right shows the entrance. Cars are not allowed, so you will need to park you car in the small parking area just outside this gate.
Note: The small trail going south from the parking area goes to private land. This is not a trail that is part of the forest reserve.
How Do I Get There?
From Sunset Blvd. go east on Elk Creek Road. You will go past the RV Park, the Cannon Beach Industrial Park, and some apartments. Keep going.
When you come to a gate across the road, park in the parking area to the right.
How Should I Prepare?
Here is a link to a map of the hiking trails in the forest reserve. Note that there are no bridges for crossing Ecola Creek. Be prepared to wade across.
You can stay on the road, and not need to cross the creek, and have a very nice hike on the road or trails.
There are no shelters, benches, or other amenities in the reserve.
The following information is posted at the gate where you enter the reserve. Please we aware of these rules. The forest reserve is there to protect the Cannon Beach city water supply. The picture below shows a city pickup entering the reserve to perform maintenance. No other vehicles are not allowed in the reserve.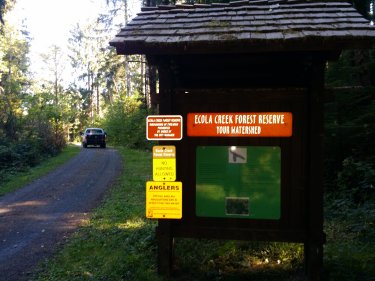 The following rules are posted:
Day use only. No camping.
Bicycles and Horses must stay on the hard surfaces roads only, unless otherwise posted.
No commercial equestrian use allowed
Dogs must be on lease, or under voice command of their owners. Dog owners are required to pick up after their dog. Do not leave dog poop in the reserve.
No smoking anywhere within the reserve.
No hunting (fishing is allowed, subject to Oregon State regulations).
No discharge of weapons.
No trapping of animals.
Fishing and gathering of forest products, such as mushrooms, is allowed, if permitted for personal use only. No commercial harvest is permitted.