The Nature Trail

Above: Looking at Ecola Creek as seen from the Cannon Beach Nature Trail
The Cannon Beach Natural Trail not only provides a nice walk, it's an easy walking trail that connects several quiet get-away spots in Cannon Beach.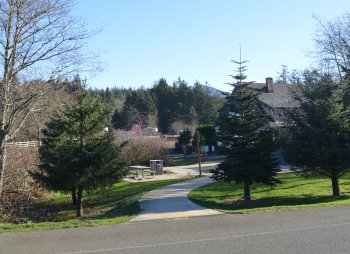 The Cannon Beach Trail runs north-south on the eastern side (the side away from the ocean) of Cannon Beach. The northern end of the trail (shown in the photo) is near the Fir Street bridge over Ecoloa Creek.
Walking south the trail follows Ecola Creek. There are several good fishing spots along this section of the trail, where salmon and trout may be caught.
The trail then goes along the eastern edge of the City Park, bringing you to Second Street. Cross the parking lot on Second Street and you'll come to sewage treatment ponds. Don't worry, they don't smell. The trail splits and you can either walk along the eastern or the western side (ocean side) of the ponds. These may be sewage ponds, but keep your eyes open, you may see some interesting wildlife.
Once you've passed the ponds you go up a slight incline and enter a small wooded area. This section of the trail is paved, and lighted, making it pleasant and easy to walk.
The southern end of the trail is on East Monroe Street. You'll find the map shown here located there.
This part of the trail uses normal streets:
From here you have several options. You can go one block west on Monroe, and turn north on Spruce and in one block you'll come to the James Madison City Park. If you've parked your car in downtown, continue north on Spruce street until you've returned to the downtown area.
Another option is to cross Monroe street and go straight ahead, walking south. You can then continue your hike all the way to Haystack Hill State Park. To do this: as you come out of the woods continue walking straight across Monroe Street. You'll be on S. Elm Street. Go south on Elm street until you come to the end, then turn right onto E. Harrison.
Go one block (west) on E. Harrison, then turn left on S. Spruce Street.
Go one block (south) on Spruce, then turn right on E. Gower Street. Gower street has a divider in the center. Go to the sidewalk on the south side of Gower, then start walking west, toward the ocean.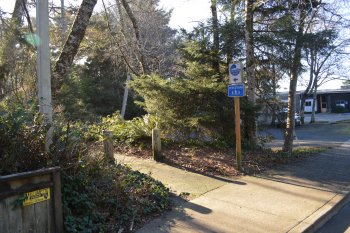 Off the Sreet and Onto A Sort Section of Trail
In less than a block you'll come to a paved trail on your left (see photo). Turn left onto that trail, following the Tsumani Evacuation Route sign. This is a short trail that will put you back on S. Spruce street. Continue walking south on Spruce, cross Sunset Blvd. and continue walking south. You'll go up a hill. Continue walking south even when it appears the road becomes a drive-way. You'll be in Haystack Hill State Park. Look for a trail at the SE corner of the end of the road. You are now hiking in Haystack Hill State Park.
From the north end of the Cannon Beach Nature Trail, through Haystack Hill State Park and out onto Harrison Street, is about a two mile hike. If you've parked your car in downtown, you can walk north on Harrison until you return to downtown.